A success-oriented training naturally requires the best possible catering for your horse. The well-being of your four-legged friend during the riding period lies in the loving and professional hands of the Hippo Promotion Team. The care of our stallions and mares is also guaranteed by our team. Our back office coordinates training courses, keeps performance and stud books, advises you on products and services and is always available for you.
At the beginning of 2004 Monika Waldeck founded the business unit Hippo Promotion, which belonged to the management consultancy ITM Consulting Group, Inc. & Co. KG. Through her love for horses in combination with economic know-how and idealism, she has made Hippo Promotion an up-and-coming company to this day and thus realized her life's dream. In May 2005 Monika Waldeck founded the Hippo Promotion Training and Equestrian Centre. A place where horses and people are trained according to their abilities and are accompanied on their way to the top. In addition to keeping her pension and providing training, Monika Waldeck and her versatile stallion Trakehner stallion Saalekönig have created a breeding line that meets the highest quality standards.
Andreas Brandt is a trainer of horse and rider. With his consistent and calm manner he imparts his knowledge to apprentices, riding students and horses, which he has gained through years of experience. During the season, Andreas is usually found on the tournament grounds on weekends. During the week, he devotes himself to daily training and all other activities.
Ina Schreiber takes care of the training of dressage and show jumping horses. She herself is successful up to M in both disciplines. In Austria she became vice champion in jumping for the youth. In her spare time she plays Horseball and has already become a Horseball Champion in Austria.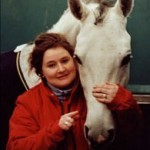 Anfang 2004 gründete Monika Waldeck die Business Unit Hippo Promotion, die der Unternehmensberatung ITM Consulting Group, Inc. & Co. KG angehörte. Durch ihre Liebe zum Pferd in Kombination mit dem wirtschaftlichem Knowhow und Idealismus, ließ sie Hippo Promotion bis heute zu einem aufstrebenden Unternehmen werden und verwirklicht somit ihren Lebenstraum. Im Mai 2005 gründete Monika Waldeck das Ausbildungs- und Reitsportzentrum Hippo Promotion. Ein Ort, an dem Pferde und Menschen entsprechend ihrer Möglichkeiten leistungsorientiert ausgebildet und auf dem Weg nach oben begleitet werden. Neben der Pensionshaltung und dem Ausbildungsangebot verwirklicht Monika Waldeck mit ihrem vielseitigen Vererber Trakehnerhengst Saalekönig eine Zuchtlinie, die den höchsten Qualitätsmaßen entspricht.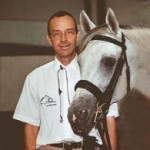 Ausbilder und Betriebsleiter • Pferdewirtschaftsmeister
Andreas Brandt ist Ausbilder von Pferd und Reiter. Mit seiner konsequenten und ruhigen Art vermittelt er Auszubildenden, Reitschülern sowie Pferden sein Wissen, welches er durch jahrelange Erfahrung gewonnen hat. In der Saison findet man Andreas meist an den Wochenenden auf dem Turnierplatz. Unter der Woche widmet er sich dem täglichen Training sowie allen anfallenden Tätigkeiten.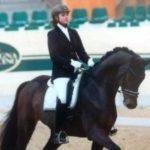 Ina Schreiber kümmert sich bei uns um die Ausbildung von Dressur und Springpferden. Sie ist selbst erfolgreich bis M in beiden Disziplinen. In Österreich wurde sie Jugend-Vizelandesmeisterin im Springen. In ihrer Freizeit spielt sie Horseball und ist in Österreich schon Horseball-Staatsmeisterin geworden.
Get to know us personally and make an appointment with us.